CHRISTIAN FORMATION
Christian Formation provides opportunities for learning and growing together in our faith, as well as in our relationships with one another. We know that Christian education is more than acquiring knowledge; it is about helping one another discover God's presence in and purpose for our lives.
PERSONAL FORMATION RESOURCES 
CURRENT FORMATION OPPORTUNITIES 
Women of the Word is a yearlong journey we take as a community of faith. We will be using A Women's Lectionary for the Whole Church, an experimental lectionary by The Rev. Wil Gafney, Ph.D., in our worship starting in Advent. This lectionary inspires our Formation for the year.
We will learn and reflect, be challenged and seen, pray and celebrate together, as we explore the totality of God with intentional worship, formation programs, and community gatherings over the next year.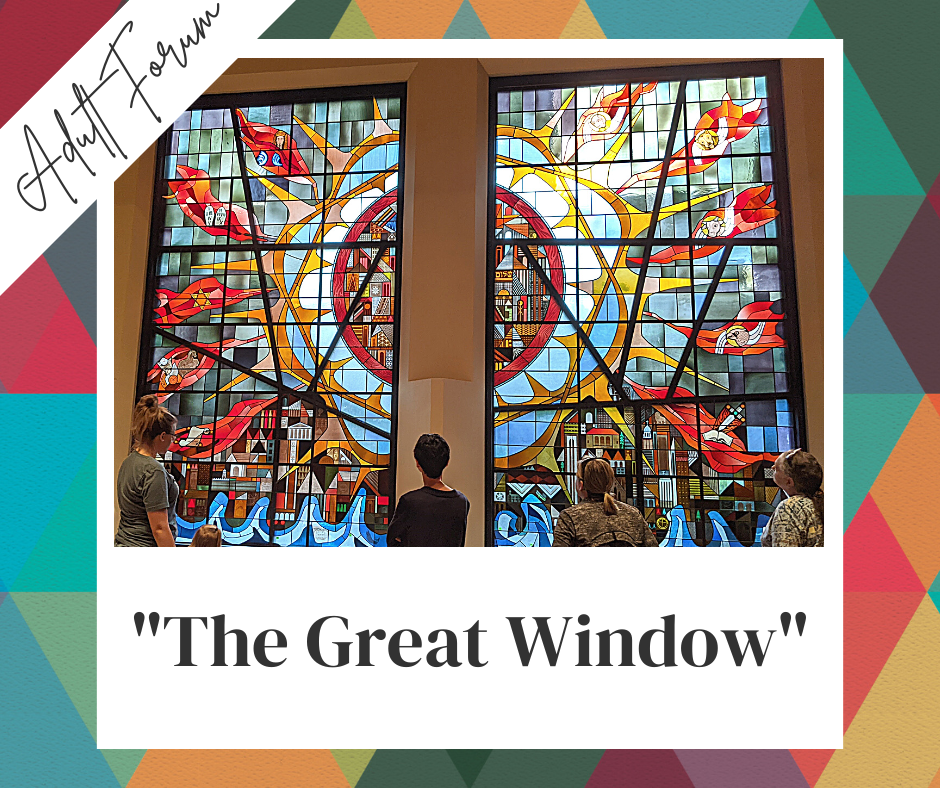 Adult Forum | September 25, 9:00am In-Person & Online
"The Great Window

"
The Great Window is a striking feature in the Nave at Christ Church. Newcomers are intrigued and long-time members beam with pride at this beautiful piece of art. Its massive size, bold colors, and intricate details draw one in. But what is the window all about? What story does it tell? And…is that a hot air balloon? And a fish? And the Dayton Art Institute?
For our first Adult Forum of the year, we invite you to join Rector Peter Homeyer and Christ Church Archivist Judith Wehn as we take a look at the deep meaning of the window, and the close-to-home story each of the symbols help tell.
Adult Forum | Oct 23 – Nov 6, 9:00am In-Person & Online
"Women of the Word: An Introduction to A Women's Lectionary for the Whole Church

"
The first program in our year-long experience of Women of the Word, this Adult Forum series serves as an introduction for parishioners in all stages of their faith and journey in the Episcopal Church.
Led by our Rector Peter Homeyer, this 3-part series is an introduction to lectionaries, scripture, translations, and the Women's Lectionary for the Whole Church. The program will be in-person and streamed live.
.
IN CASE YOU MISSED IT . . . 

DIOCESAN FORMATION OPPORTUNITIES . . .

The Episcopal Diocese of Southern Ohio has a variety of Christian Formation
opportunities throughout the year. To learn more about their current formation programs, click here.
Centered Circles | A 9-Session Episcopal Series Focused on Centering Our Lives on Jesus
Tuesdays with Miriam 7-:8:30pm   9/20-11/15 on Zoom
Fridays with Amy 10-11:30am  9/30-12/2 on Zoom
Centered is a discipleship series guiding small, gathered communities to get deeply rooted in love with God and one another, so that we grow to look, act, and love more like Jesus. We will gather to spend time together in prayer; explore a short film and questions about God, belonging and living a meaningful life; and support each other in committing to intentionally center their lives on Jesus and his Way of Love.
Sign up here
FELLOWSHIP
Downtowner's Group
The Downtowners Luncheon Group is a fun bunch that meets monthly for lunch, trying out different local restaurants around Dayton. They typically meet on the third Wednesday of each month. A casual, fun way to enjoy fellowship with one another while supporting local businesses and sampling wonderful cuisine!
Women's Retreats
Each spring and fall, we conduct a Women's Retreat, designed to be a time for relaxation, fellowship, and spiritual renewal. A casual, fun, and engaging time with other women of the parish to strengthen friendships and make new ones, the weekend retreat is self-led by women of the parish and often held in a private retreat house at the Convent of the Transfiguration in Cincinnati, Ohio.
Sundae Sundays
A favorite gathering for kids and adults alike, Sundae Sundays are a summer hit! Typically held once a month from May – September, Sundae Sunday is filled with ice cream and smiles following the 10:30 worship service.
Summer First Fridays
First Fridays are a Dayton-wide celebration of downtown establishments throughout the summer months. During First Fridays, we enjoy being a place of welcome and nourishment to our neighbors throughout the city. In previous years we have had food, live music and open our doors for folks to learn more about the church. More recently we are excited to invite visitors to walk our new Reconciliation Labyrinth!
Gather, worship, reflect.